Undergraduate Programs
The Department of Crop, Soil and Environmental Sciences has two undergraduate majors and many minors to choose from for students who are passionate about pursuing careers in science, production, conservation and sustainability.

Graduate Programs
Students interested in pursuing advanced degrees can choose one of our three concentations for the Master of Science degree, or complete a doctoral program in one of our 12 Ph.D. research areas.

Find an Expert
Our department is staffed with award-winning, nationally-recognized faculty members who not only serve students on campus, but also conduct research that benefits industries and communities across the state, nation and globe.
Spotlight
The University of Arkansas continues to work closely with public health officials at all levels to respond to the 2019 novel coronavirus (COVID-19).
Find the latest update on Coronavirus (COVID-19)
CSES Departmental Seminar Schedule Spring 2022
PTSC 009 at 3:30-4:20 pm or join via Zoom
| | | | |
| --- | --- | --- | --- |
| Date | Presenter | Seminar Title | Moderator |
| 5/14/2022 | TBD | End of Semester | TBD |
CSES End of the Year Celebration
On May 3rd, the CSES Undergraduate and Graduate Student Clubs worked together to sponsor an end of the year celebration for the department. The night consisted of games, pizza, and cake! Thank you to those who came. Student awards were also announced.
(See awards below)

CSES Outstanding Ph.D. Student - Maria Zaccaro (top)

Zaccaro-Gruener is a doctoral student in the Department of Crop, Soil and Environmental Sciences. She is advised by Distinguished Professor and Elms Farming Chair of Weed Science Jason Norsworthy.

CSES Outstanding M.S. Student - Tristen Avent (bottom left)

Avent is a master's student in the Department of Crop, Soil and Environmental Sciences. He is also advised by Jason Norsworthy.

CSES Outstanding Undergraduate Award - Tanner King (not pictured)
Gerald O. Mott Award - Carrie Ortel (bottom right)

Ortel, a post-doctoral fellow, is working on her Ph.D. in crop, soil and environmental sciences with a focus on soil fertility. She is advised by Trenton Roberts, associate professor of soil fertility/soil testing.

Tri-Society National Student Recognition Award - Tanner King (not pictured)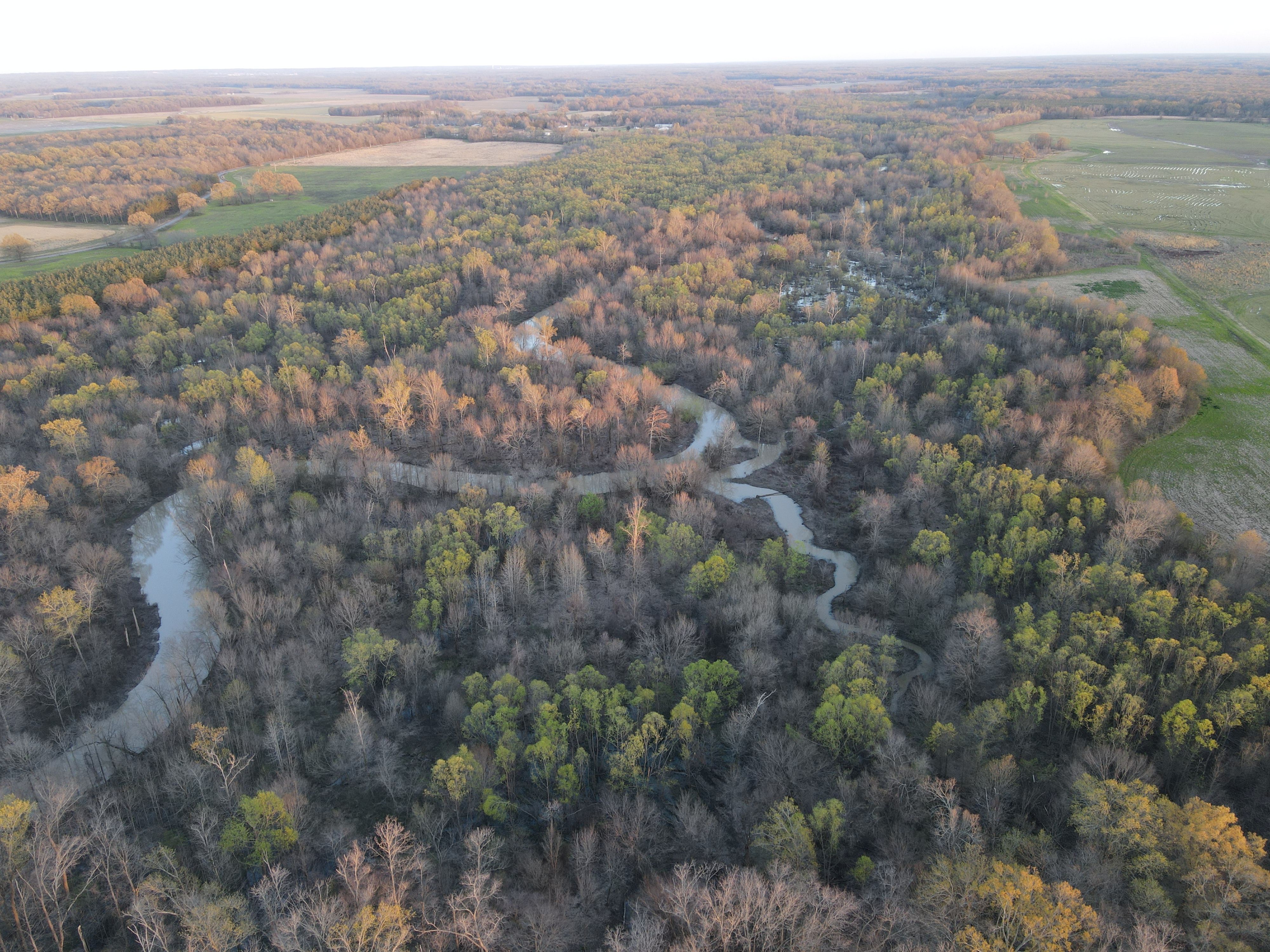 The bayou photographed is located between two agriculture production areas at The Pine Tree Research Station where they grow and research crops.
Drone photograph taken by Wesley France, program associate for Dr. Poncet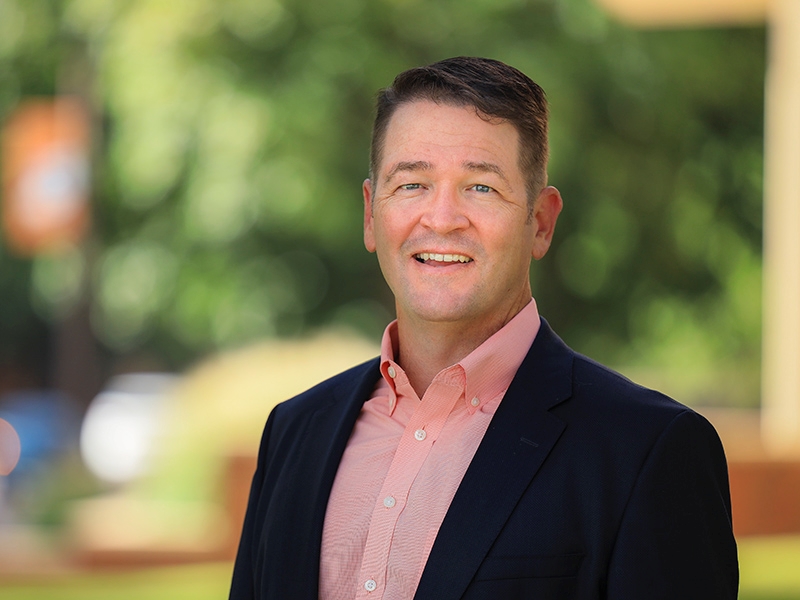 Dr. Jeff Edwards has been named Department Head by the Crop, Soil, and Environmental Sciences Department for the University of Arkansas System Division of Agriculture and the Dale Bumpers College of Agricultural, Food and Life Sciences. Edwards is coming to Arkansas from Oklahoma State University, where he has served as department head for the plant and soil sciences department since 2015. Prior to that, he was the Warth Distinguished Professor of Agronomy at OSU.
Edwards' appointment as CSES department head will bring him back to where he completed his graduate studies. After receiving a bachelor's degree from Western Kentucky University in Bowling Green, Kentucky, Edwards earned his master's in weed science and Ph.D. in crop physiology at the University of Arkansas. Taking leadership of the department on Jan. 10, Edwards has said he wants his first year on the job focused on getting to know students and stakeholders.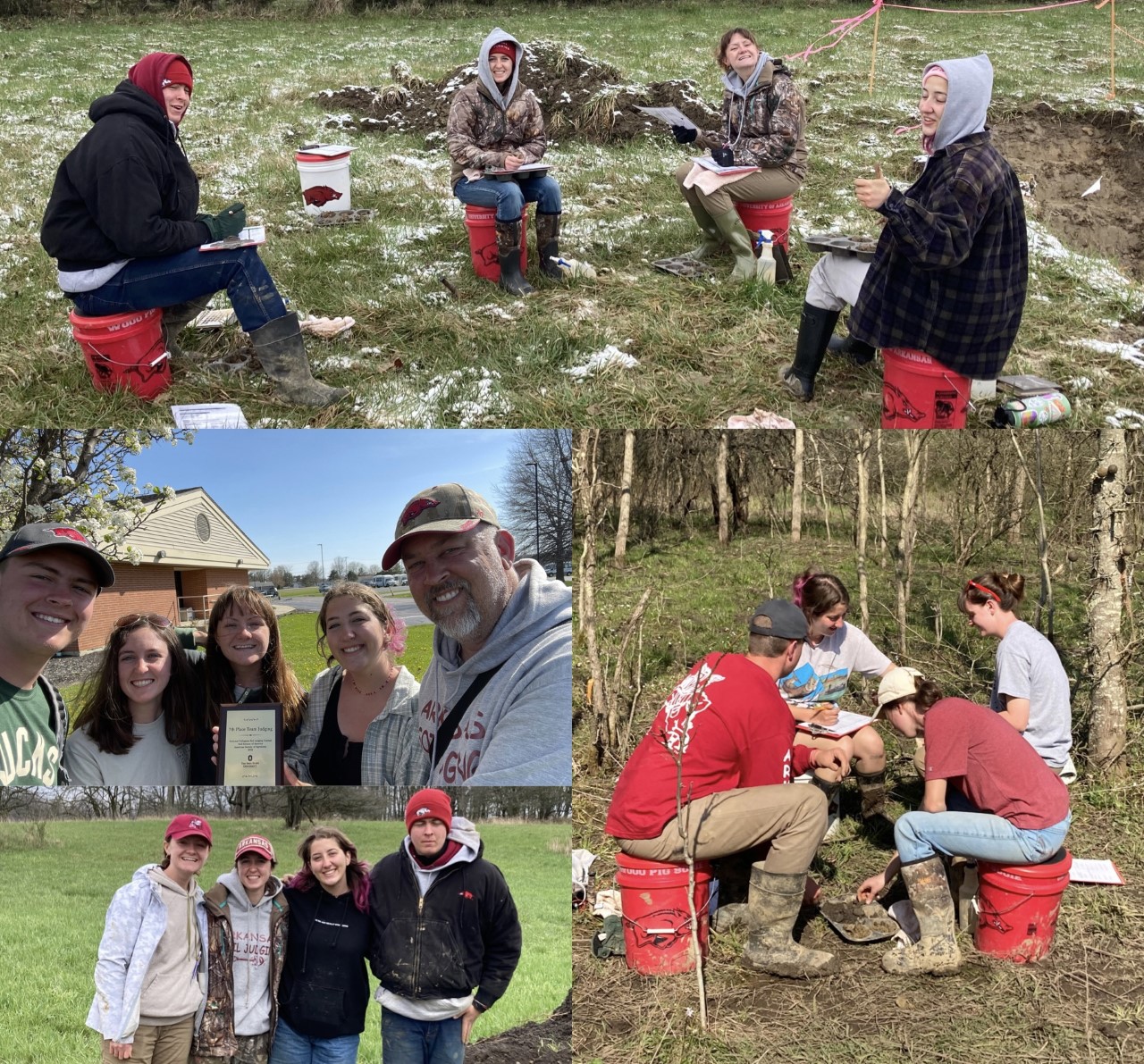 During the week of April 18th, The University of Arkansas Soil Judging Team, participated in the 2022 National Soil Judging Contest hosted by The Ohio State University near Marysville, OH. The team consists of Jonathan Brye, Katie Jansson, Lilly Stults, Lauren Gwaltney and their coach Dr. Kris Brye. They placed 7th in the group-judging portion of the contest out of 21 participating schools. The team finished 16th overall out of the 21 teams, but beat both of the other two teams from their region (Oklahoma State University and Tarleton State University).
Congratulations team!