Undergraduate Programs
The Department of Crop, Soil and Environmental Sciences has two undergraduate majors and many minors to choose from for students who are passionate about pursuing careers in science, production, conservation and sustainability.

Graduate Programs
Students interested in pursuing advanced degrees can choose one of our three concentations for the Master of Science degree, or complete a doctoral program in one of our 12 Ph.D. research areas.

Find an Expert
Our department is staffed with award-winning, nationally-recognized faculty members who not only serve students on campus, but also conduct research that benefits industries and communities across the state, nation and globe.
Spotlight
Date

Presenter

Seminar Title

Moderator

1/16/2023

Martin Luther King Holiday

No Seminar

No Seminar

1/23/2023

UAPD

SafeZone app/ Active Shooter Training

Dr. Edwards

1/30/2023

No Seminar

No Seminar

No Seminar

2/6/2023

No Seminar

No Seminar

No Seminar

2/13/2023

Open (2 spots)

Open

Open

2/20/2023

Guest Speaker – Katy Bridges via Zoom

TBD

Dr. Brye

2/27/2023

Guest Speaker - Dr. Borbe

TBD

Dr. Edwards

3/6/2023

Carrie Ann Followell (MS) – 3:30-3:55

TBD

Dr. Roberts

Open (MS) - 3:55-4:20

Open

Open

3/13/2023

Machaela Morrison (MS) -3:30-3:55

TBD

Dr. Brye

Noah Reed (MS) – 3:55-4:20

TBD

Dr. Butts

3/20/2023

Spring Break

No Seminar

No Seminar

3/27/2023

Guest Speaker – Jason Burgess-Conforti

TBD

TBD

4/3/2023

Guest Speaker- Dr. Rachel Vann

TBD

Dr. Edwards

4/10/2023

Casey Arnold (MS) – 3:30-3:55

TBD

Dr. Norsworthy

Open (MS) - 3:55-4:20

Open

Open

4/17/2023

Tori Holder (MS) – 3:30-3:55

TBD

Dr. Savin

Ethan Collins (MS) - 3:55-4:20

TBD

Dr. Savin

4/24/2023

Francisco Javier Velasquez Baldizon (MS) – 3:30-3:55

TBD

Dr. Poncet

Dietrich Von Thurston (MS) – 3:55-4:20

TBD

Dr. Miller

5/1/2023

Tatum Simms (PhD) – 3:30-4:20

TBD

Dr. Brye

All graduate students and faculty should complete an evaluation form for each student seminar. The form can be completed on a computer or mobile device and submitted electronically.
Access at the following link: https://forms.office.com/r/zkP3KHnKiU
The University of Arkansas continues to work closely with public health officials at all levels to respond to the 2019 novel coronavirus (COVID-19).
Find the latest update on Coronavirus (COVID-19)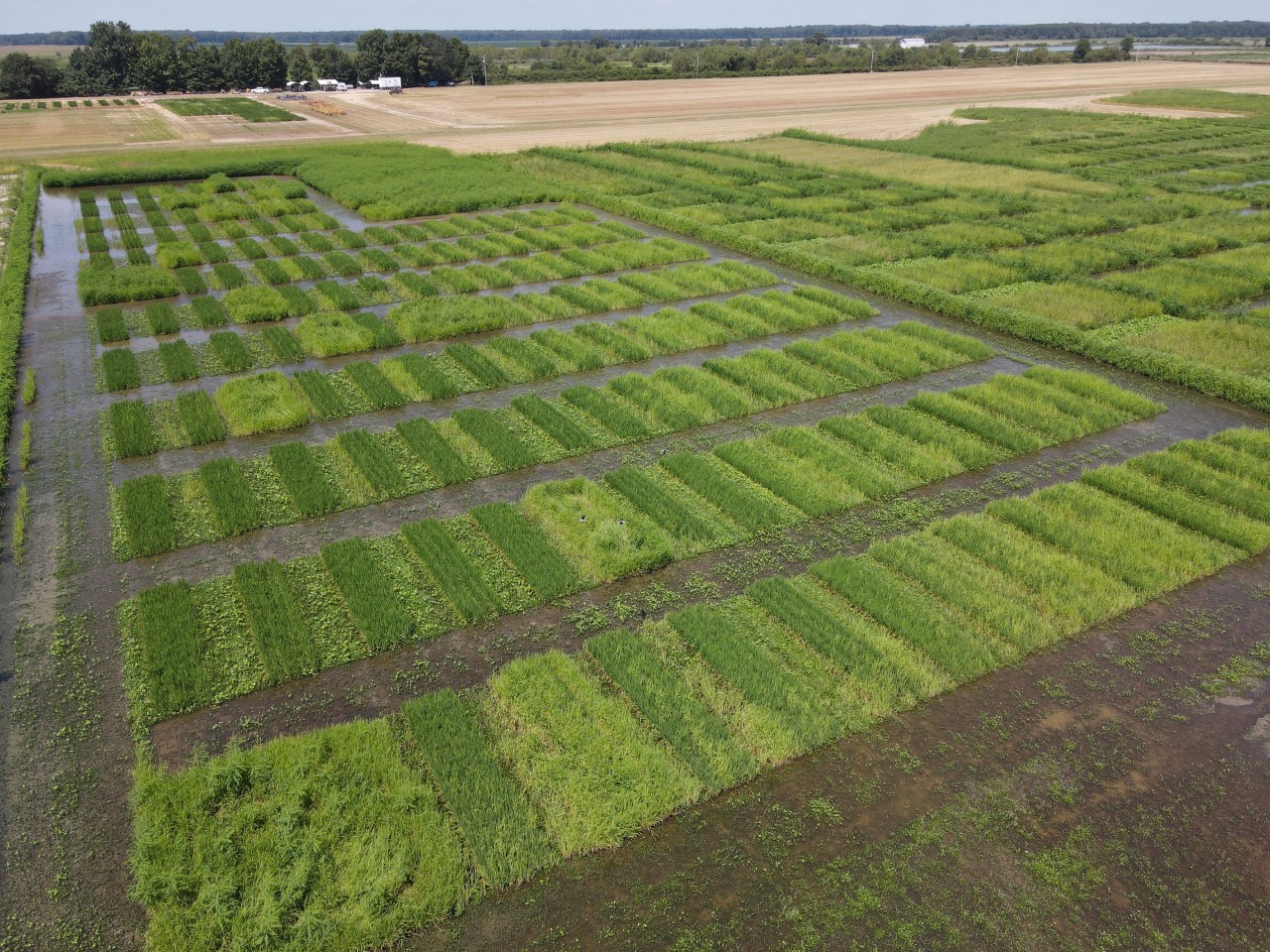 The rice photographed is located at Lonoke Research Station. These plots were a part of weed control trials.
Drone photograph taken by Wesley France, program associate for Dr. Poncet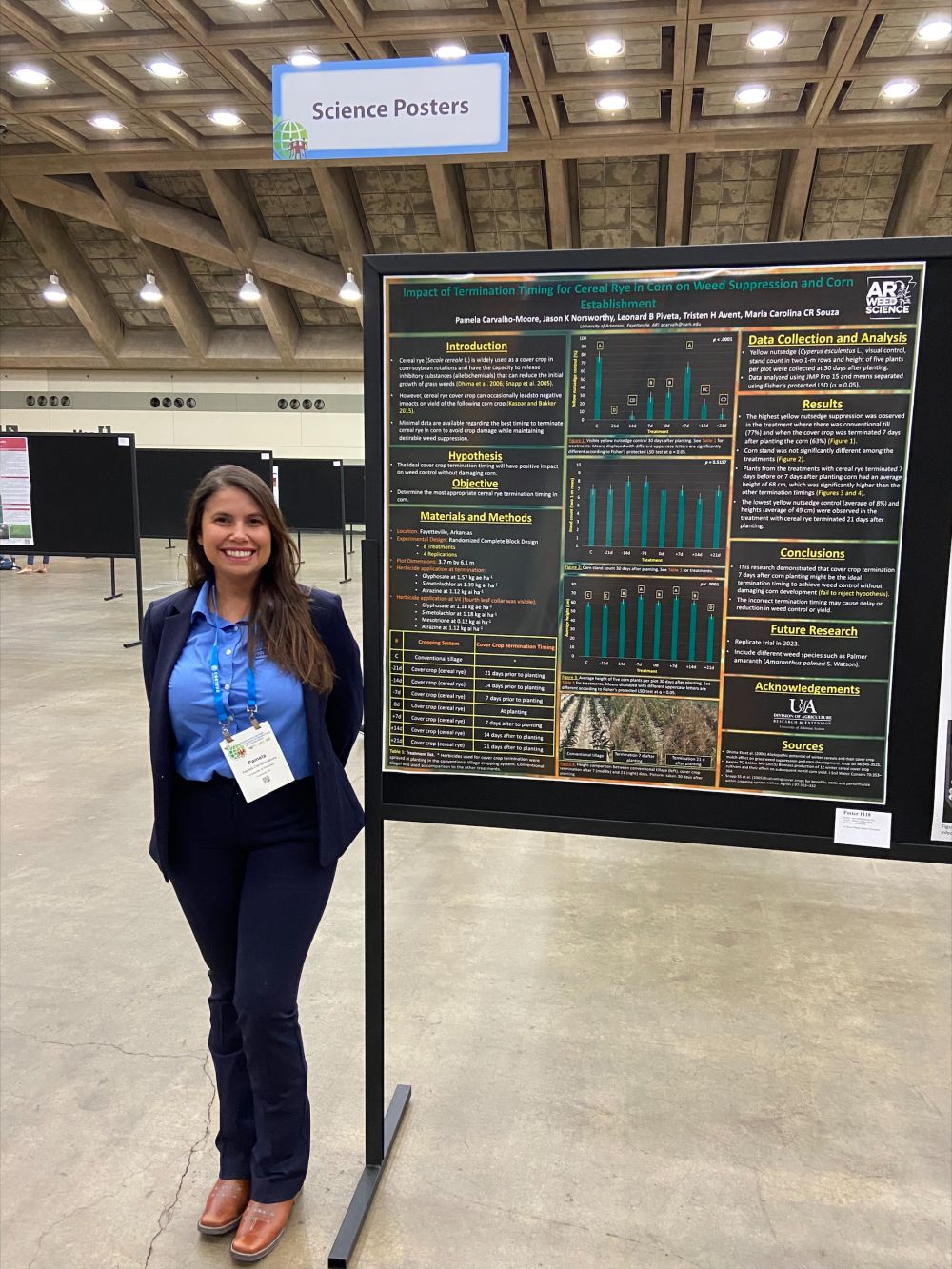 Several of our students won awards at the recent ASA-CSSA-SSSA meetings. Student winners include:
Ethan Collins won first place in the ASA Animal Agriculture and the Environment poster competition
Kyle Hoegenauer placed 2nd in the Soil Fertility & Plant Nutrition graduate student 5 minute rapid and poster competition
Carrie Ortel won first place in the Applied Soybean Research graduate student oral competition
Carrie Ortel also won the ASA Nelson Yield Limiting Factors graduate student scholarship
Pamela Carvalho-Moore, pictured above, won the Weedy and Invasive Plant Species graduate student oral competition
Diego Della Lunga placed third in the Soil Carbon and Greenhouse Gas Emissions graduate student oral competition
Juan Camilo Velasquez received the Global Rice Leadership Award from the Global Rice Research Foundation. The funding will support an expansion of Juan's dissertation research on Echinochloa. It also enables Juan to travel to CIAT to facilitate implementation of some experiments there.
Several of our students were awarded the Arkansas Soybean Promotion Board Fellowship. Awardees include Matthew Woolard, Noah Reed, Carrie Ortel, and Tristen Avent.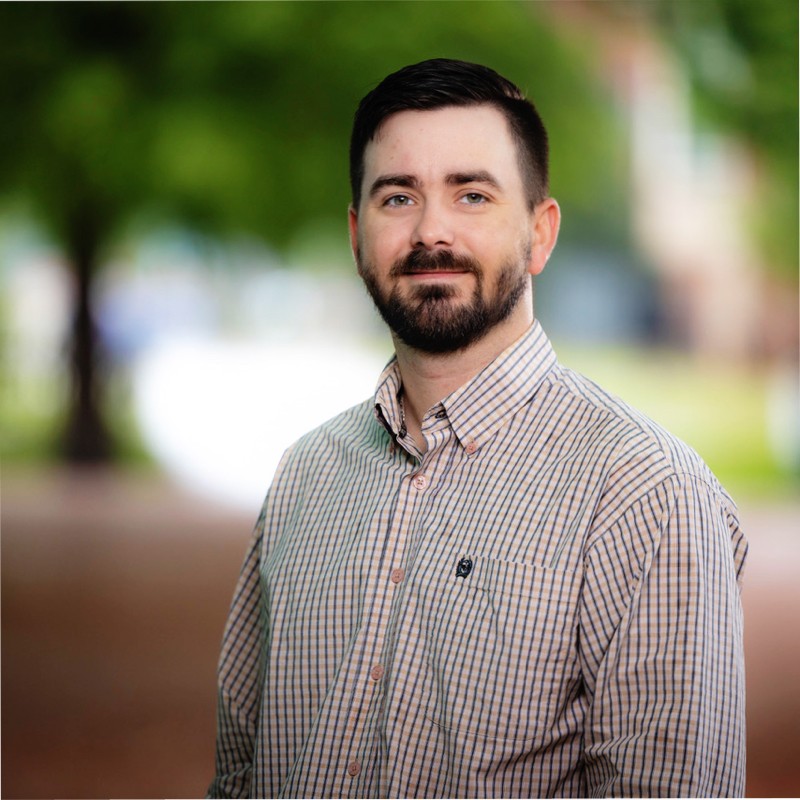 Dr. Bronc Finch has begun his role as a State Soil Fertility Specialist with UADA. He will be an Assistant Professor in the Crops, Soils and Environmental Sciences Department and his office is located in the State Extension Office in Little Rock.
Dr. Finch's primary focus will be on soil fertility for forage and pasture production. He received his doctorate from Oklahoma State University where his work focused extensively on continuous winter wheat forage production systems for the state of Oklahoma. A large portion of Dr. Finch's research has focused on forage nutrient management and forage cover cropping in winter wheat grazing systems. However, during his graduate studies, he managed trials in various cropping systems, which he feels has built a strong background that will be effective in assisting producers in Arkansas and surrounding states.