Undergraduate Programs
The Department of Crop, Soil and Environmental Sciences has two undergraduate majors and many minors to choose from for students who are passionate about pursuing careers in science, production, conservation and sustainability.

Graduate Programs
Students interested in pursuing advanced degrees can choose one of our three concentations for the Master of Science degree, or complete a doctoral program in one of our 12 Ph.D. research areas.

Find an Expert
Our department is staffed with award-winning, nationally-recognized faculty members who not only serve students on campus, but also conduct research that benefits industries and communities across the state, nation and globe.
Spotlight
Register for the Farm to Table 5K & Fun Run!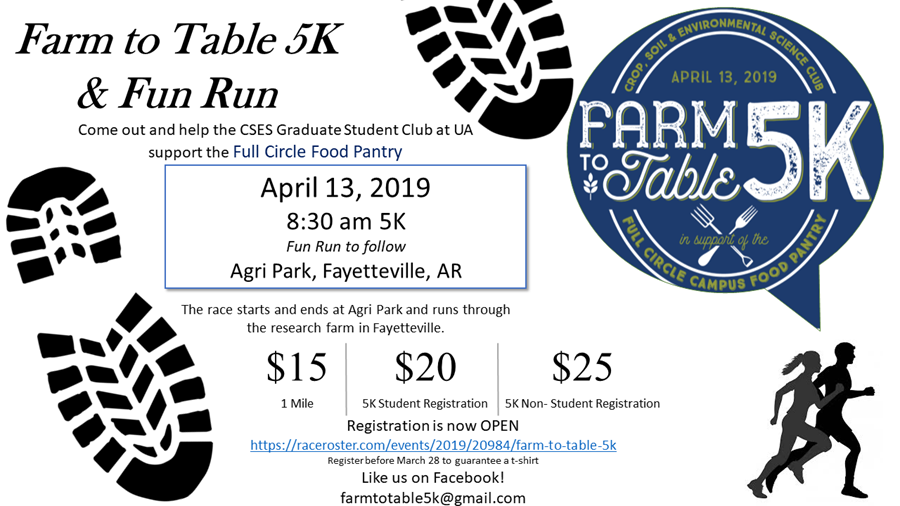 The ninth annual Farm to Table 5K will be on April 13, 2019. This event is hosted by the Crop, Soil and Environmental Sciences Graduate Club and proceeds will benefit the U of A Full Circle Food Pantry.

Save the date for the
20th annual Delta Scholarship Golf Classic
The 20th anniversary of this outstanding fundraising event will be held on July 19, 2019 at the Ridges at Village Creek! With support from alumni and friends like yourself, this event has awarded more than $400,000 in scholarships to our deserving students. Make sure your reserve your spot for this year's event! Registration will open in April.
If you're interested in becoming a sponsor, please contact hyeatman@uark.edu.