Undergraduate Programs
The Department of Crop, Soil and Environmental Sciences has two undergraduate majors and many minors to choose from for students who are passionate about pursuing careers in science, production, conservation and sustainability.

Graduate Programs
Students interested in pursuing advanced degrees can choose one of our three concentations for the Master of Science degree, or complete a doctoral program in one of our 12 Ph.D. research areas.

Find an Expert
Our department is staffed with award-winning, nationally-recognized faculty members who not only serve students on campus, but also conduct research that benefits industries and communities across the state, nation and globe.
Spotlight
The University of Arkansas continues to work closely with public health officials at all levels to respond to the 2019 novel coronavirus (COVID-19).
Find the latest update on Coronavirus (COVID-19)
CSES Departmental Seminar Schedule Fall 2021
PTSC 009 at 3:30-4:20 pm or join via Zoom

Contact nslaton@uark.edu and cljamies@uark.edu for Zoom link

Date

Presenter

Seminar Title

Moderator

8/23/21

First Day of Classes

No Seminar

--

8/30/21

Graduate Students Only

Departmental Orientation
Seminar Expectations

Dr. Roberts

Dr. Slaton

9/6/21

Labor Day

No Seminar

--

9/13/21

Dr. Jim Gigantino

Rights, Resources, and Responsibilities of being a UA Graduate Student

Dr. Slaton

9/20/21

Lora Lennertz

Data Management Strategies

Dr. Slaton

9/27/21

Grant Lawson Priess (PhD)

Optimizing Palmer amaranth control in the XtendFlex technology

Dr. Norsworthy

10/4/21

Shelby Lebeau (MS)

Cover Crop Effects on Aggregate Stability, Infiltration, and Water Retention on Alluvial and Loessial Soils of the Lower Mississippi River Valley

Dr. Brye

10/11/21

Stephanie Adams

Anna Zajicek

Bridge Program: Onboarding & Mentoring Faculty New TT and Full-Time NTT Faculty

Dr. Slaton

10/18/21

Niyi Omidire (PhD)

Field Evaluation of Wastewater-recovered Struvite as a Fertilizer-Phosphorus Source in Flood-irrigated Rice in Eastern Arkansas

Dr. Brye

10/25/21

Fall Break

No Seminar

--

11/1/21

Jeremie Kouame (PhD)

S-metolachlor dissipation kinetics in soils from Arkansas and responses of Palmer amaranth from the Midsouthern US to soil applied herbicides and drought

Dr. Burgos

Dr. Savin

11/8/21

Tri-Societies Meeting

No Seminar

--

11/15/21

TBD

TBD

--

11/22/21

Thanksgiving Week

No Seminar

--

11/29/21

Richard A. Ashworth

Laboratory Hazard Assesments: Background, Regulatory Requirements, and Tools to Assist

Dr. Slaton

12/6/21

Alyssa Ferri (MS)

Cyanobacterial Harmful Algal Blooms Vary Temporally and Across Years at Lake Fayetteville, Arkansas

Brian Haggard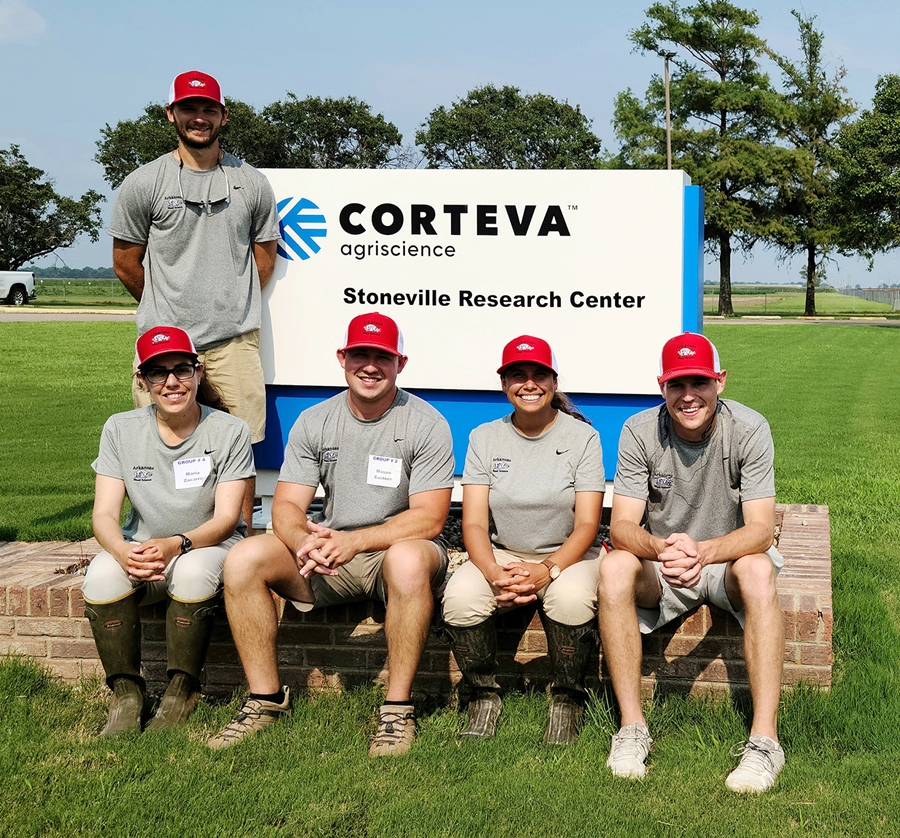 The U of A weed science team includes (front, L to R) Maria Zaccaro, Mason Castner, Pamela Carvalho-Moore and Grant Priess, and (back) Tristen Avent. They are coached by CSES professors Nilda Burgos and Jason Norsworthy.
U of A Weed Science Team Wins 2021 Regional Championship
All five team members placed in the top 10 individually as the U of A weed science team captured first place in the Southern Weed Science Society Weed Contest in early August in Stoneville, Mississippi.
Arkansas edged Virginia Tech University by two-tenths of a point in the closest finish in SWSS history.
In individual standings, Grant Lawson Priess finished first as the top overall scorer. He also won the herbicide symptomology category.
Mason Castner was second overall, Pamela Carvalho-Moore was sixth, Tristen Avent eighth and Maria Zaccaro 10th.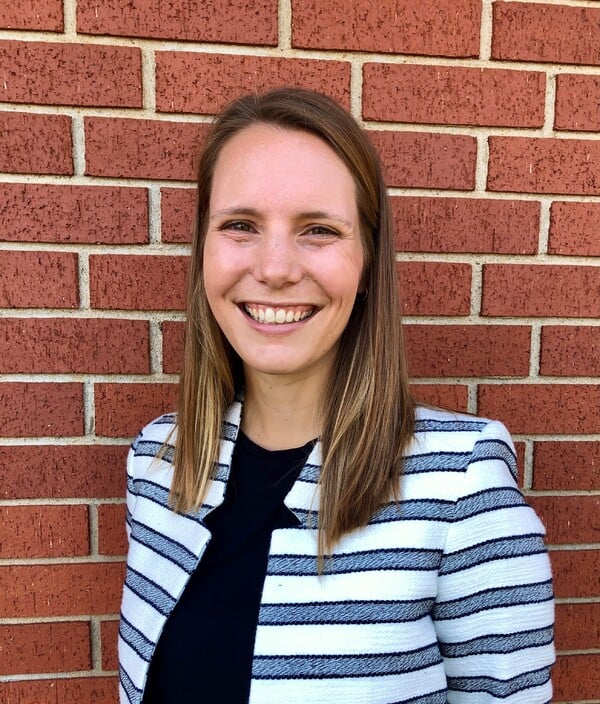 Carrie Ortel, CSES PhD Student
Carrie Ortel, a doctoral candidate in Bumpers College, has been named recipient of the Nelson Yield-Limiting Factors Graduate Student Scholarship awarded by the American Society of Agronomy.
Ortel, a post-doctoral fellow, is working on her Ph.D. in crop, soil and environmental sciences with a focus on soil fertility. Her research evaluates late season potassium applications to Arkansas soybean, exploring ways to maximize yield and profit potential for producers.
Dr. Nathan Slaton, Director of Soil Testing has been named Interim Department Head for Crop, Soil, and Environmental Sciences Department. He joined the Division of Agriculture as a Jefferson County extension agent. He served as an area extension rice agronomist from 1990 to 1995 before being named extension agronomist for rice in 1995. In 2001, he moved to the agricultural experiment station side of the Division of Agriculture as an assistant professor and director of soil testing. In 2009, he was named professor. In 2016, he was appointed as a part-time assistant director of the station.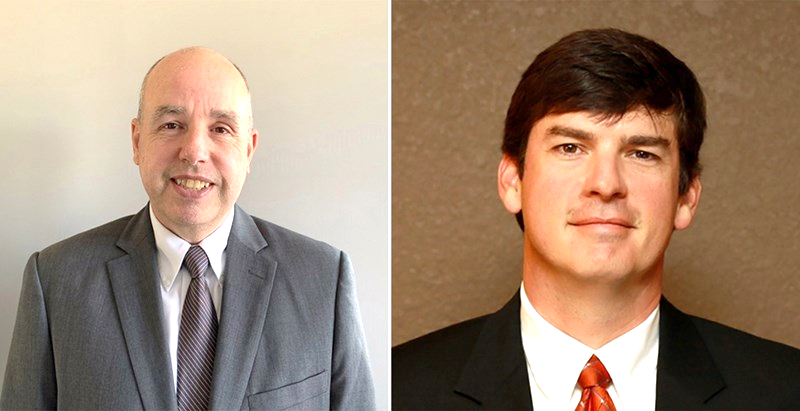 Frank Carey (Left) and Jeff Rutledge (Right) have been named 2021 Outstanding Alumni by the Department of Crop, Soil and Environmental Sciences in the Dale Bumpers College of Agricultural, Food and Life Sciences.
Dr. Carey is the Outstanding Ph.D. Alumnus and Rutledge the Outstanding B.S./M.S. Alumnus. Carey is the senior regulatory expert manager for Valent USA in Olive Branch, Mississippi. Rutledge is northern region director for AgHeritage Farm Credit Services in Newport. He earned his Ph.D. in 1994 and his master's in 1990, both from the U of A, in agronomy.
Dr. Rutledge farms corn, rice and soybeans, and serves on boards for Arkansas Ag Council, Arkansas Rice Council, Arkansas Rice Research and Promotion, USA Rice Federation, USA Rice Council, Jackson County Farm Bureau, Newport School, Newport Levee and the Arkansas Waterways Commission. He earned his master's degree from the U of A in agronomy in 1999.