Why Crop Science
Cory Johnson
Crop Science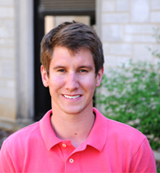 Cory Johnson, originally from Stuttgart, graduated from high school in South Fulton, Tenn. Cory chose the University of Arkansas because it offered a prestigious education in Crop Science. He is completing a minor in Pest Management.
He appreciates the Bumpers College because of the scholarship and study abroad opportunities it provides for students. "The agriculture programs here are great and offer many different classes for each major." He values his program for "the variety of professors and their knowledge and backgrounds in Crop Science."
Professors David Long and Mary Savin have been influential to Cory. "They have opened my eyes to different amounts and varieties of agriculture and how they correlate."
Cory plans to work as a crop consultant. "Bumpers College has helped me in reaching my career goals by providing the classes I need to gain the knowledge and understanding of modern agriculture in a competitive industry."
If Cory could go back in time and tell himself something before coming to college, it would be: "to double major and branch out. Study hard, but don't be afraid to do something different." For academic advice, contact Cory at cdj006@uark.edu
Why is Crop Science important?
• Increasing demand for food • Decrease in land available for agriculture • Science and technology based
Who should be interested?
The Crop Science major is for students interested in issues dealing with all facets of crop production. The major crops of Arkansas include soybean, rice, cotton, wheat, and pasture grasses are studied in detail. The major provides a strong science background, as well as a practical education.
Career Opportunities
As we enter the 21st century, food and fiber production for an ever increasing world population will increase in importance. Students who graduate with a degree in Crop Science can work in the following areas:
Local, State, or Federal Governmental Agencies:
• Arkansas Soil and Water Conservation Commission • Cooperative Extension Service • State Plant Board • United State Department of Agriculture (USDA) • Natural Resource Conservation Service (NRCS) • Forest Service (FS) • many others...
Private Sector
• Crop consulting/Certified crop advisor • Farm management • Precision agriculture advising • Seed/grain and chemical/pesticide industries • Research scientist • Educator • Retail business management/owner • Technical representative • Sod farm, nursery, or greenhouse management • Golf course superintendent • Park grounds keeper • many others...
Academia/Research
• Many students go on to Graduate School to further their education • Crop Scientist • Seed Technologist • Plant Breeder • Crop Physiologist • Weed Scientist • Research Technician • many others...
Possible Certifications
Coursework prepares students to take the Certified Crop Adviser examination.