Delta Classic UA scholarships awarded for crop and environmental science majors
Delta Classic UA scholarships awarded for crop and environmental science majors
July 29, 2009
Contact Information:
Holly Yeatman, Department of Crop, Soil, and Environmental Sciences
479-575-5726 /
hyeatman@uark.edu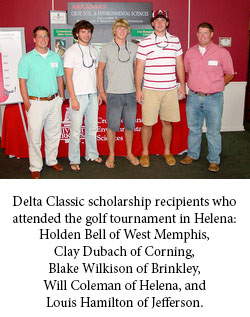 HELENA, Ark. — The Delta Classic Scholarship Golf Tournament July 24 at the Helena Country Club raised more than $26,000 to fund scholarships for University of Arkansas students majoring in crop management or environmental, soil and water science.
Robert Bacon, head of the department of crop, soil and environmental sciences in the university's Bumpers College of Agricultural, Food and Life Sciences, said the tournament has raised over $238,000 for scholarships in ten years.
Seventy-six scholarships have been awarded, and an endowment is being built for the James L. Barrentine Endowed Scholarship, Bacon said. A former department head, Barrentine started the tournament in 1999.
Delta Classic scholarships of $2,000 each for 2009-2010 were awarded to Holden Bell of West Memphis, Jacob Coleman of DeWitt, Will Coleman of Helena, Clay Dubach of Corning, Will Gunnell of DeWitt, Louis Hamilton of Jefferson, Daniel Holaday of Wildwood, Mo., Ashley Millwood of White Hall, Kevin Rorex of Inboden, and Blake Wilkison of Brinkley.
Richie Workman of Little Rock organized this year's tournament. A Local Field Advisor with Monsanto, he is a member of the CSES Alumni and Friends group.
Corporate sponsors for the tournament were Allen Canning Company, Arkansas Farm Bureau, Isle of Capri and Helena Chemical Company. Hole sponsors for the tournament were BASF, Bayer CropScience LP, Cheminova, Inc., Coco Distributors, Crop Production Services, Inc., Delta & Pineland Seed Co., Dow AgroSciences, Fuller Seed & Supply, Gillett Grain Services, Graves Enterprises, Helena Chemical Company,
Hickory Hills Pharmacy, Mary Louise Demoret & V. Poindexter Fiser, Mid-South Ag Equipment, Monsanto, Pioneer Hi-Bred International, Inc., Producers Rice Mill, Inc.,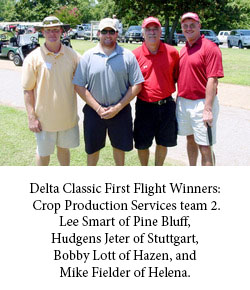 Syngenta Crop Protection, Inc., Valent , Weed Science — John Boyd, and Weed Science — Bob Scott.
Winning team sponsors and golfers were:
First Flight — Crop Production Services team No. 2 — Mike Fielder of Helena, Bobby Hudgens Jeter of Stuttgart, Bobby Lott of Hazen, and Lee Smart of Pine Bluff.
Second Flight — Helena Chemical Company team No. 2 — Mike Curtner and Danny Glenn of Wynne, Ark., and Martin Knight and Jeff McCann of Germantown, Tenn.
Delta Classic Third Flight Winners: Hornbeck Seed Company, Inc. Wade Currie, Jim Craig, Heath Whitmore and Bradley Hargrove, all of DeWitt.